Location: Nanning, Guangxi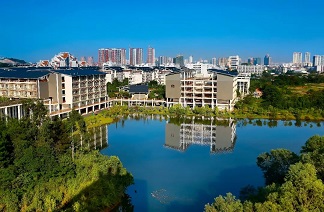 Introduction:
Established as Nanning Vocational College in 1984, these college is a comprehensive college providing full-time higher vocational education. Sponsored by the Nanning Municipal Government, it is co-administrated by the People's Government of Guangxi Zhuang Autonomous Region and Nanning Municipal Government. In Nov. 2009, it was recognized, for the first time among Guangxi's vocational colleges by the Ministry of Education and Ministry of Finance of the People's Republic of China as a"National Demonstrative Vocational College." It had been in the first list which has witnessed 27 other vocational colleges being approved as national demonstrative colleges.
The college has a total area of more than 1,200,000 square meters while the college buildings' coverage exceeds 500,000 square meters. It has more than 17,000 full-time students.In addition, there are 3,200 part-time students receiving continuing education in this college.
Its full-time and part-time teaching staff members are led by a excellent national teaching group. The teachers, who have both high academic standards as well as rich practical experience, provide their students with a quality-oriented education. Currently, it has one expert who enjoys the special subsidy of the State Council, one national excellent teaching group, one national famous teacher,and one who has been accepted in"National Ten Thousand Scheme"as a famous teacher. Besides, it has one distinguished scholar of Guangxi higher school, one BaGui scholar, one provincial excellent teaching group and four famous teachers recognized by the Guangxi Zhuang Autonomous Region. The college altogether has more than 800 staff members,over 500 of them being teaching members.
The college insists on cooperating with universities as well as corporations at home and abroad. It has signed cooperative agreements with more than 10 colleges and institutes in ASEAN and other countries, and is in partnership with more than twenty domestic higher vocational colleges. Moreover, it cooperates with more than 230 leading enterprises in various industries.
In recent years, the college has a more than 90% employment rate among its graduates. Since its establishment, it has cultivated more than one hundred thousand graduates who have become a real force to develop the economy and society.
Chinese Language Program:
Tuition fee: 4000 RMB/Semester
Accommodation fee: 1000 RMB/Semester(4-shared room)
Diploma Program:
Major: International Business(taught in Chinese and English)
Tuition fee: 4000 RMB/Semester
Accommodation fee: 1000 RMB/Semester(4-shared room)
Application Materials:
1. Photocopy of Passport
2. Photo
3. Application Form
4. Highest Graduation Certificate and Transcript
5. Non-criminal Certificate
6. Certificate of Health Examination
7. Bank Statement
If you want to study in China, please contact Stella for more details:

Stella
www.cuecc.com
Tel: +86 17767072959
Wechat: StudyInChina1
QQ: 2853662501
What's App: +86 17767072959
Skype: study-in-china.org
Facebook/Instagram: Stella Cuecc
E-mail: eduunion@cuecc.com