Location: Shanghai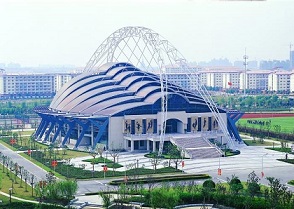 Introduction:
This university is a widely recognized university specializing in applied technologies and engineering sciences, focusing on interdisciplinary integration of economics and management, and art design, etc. and promoting a well-coordinated development of undergraduate, graduate and higher vocational education. It now boasts 16 master's degree programs and 85 majors for undergraduates and junior college students, and is home to about 20,000 undergraduates and junior college students, and about 1,200 postgraduates.
The university boasts both the profound academic profile and the fine tradition of school-running buttressed by industries and enterprises. The main campus is located in the Songjiang University Town, covering an area of 1200 mu(80 hectares). The university, currently, consists of full-time 22 schools and teaching sections, possessing several state-of-the-art teaching and training bases and an array of school-level scientific research institutes including the Rail Transportation Operation Security Detection and Evaluation Service Center, etc.
Internationalized education is part and parcel of its talent cultivation. Over the years, it has conducted a wide range of international exchanges and cooperation with overseas universities and enterprises so as to emulate the successful modes of the foreign higher education, absorb their advanced philosophies and graft their quality educational resources. In 2002, the university co-founded the Sino-French IFA Institute of Fashion Designer with the IFA; in 2003, it co-founded the Sino-Korean School of Multimedia Design with the Dongseo University, Korea; in 2013, it co-founded the Sino-US Engineering School with the Lawrence Technological University, USA. At present, it has six Sino-foreign joint programs involving various fields and disciplines such as engineering, art, fashion and multimedia design, etc.
The university has carried out extensive exchanges and cooperation with over 50 universities and co-op counterparts successively in more than 20 countries. Every year almost 500 students are sent to participate in mutual credit recognition or international co-op programs in10-odd countries such as the US, the UK, Germany, France, Italy, Sweden, Australia, New Zealand, Japan, Korea and Singapore. Up to now, it provides about 50study-abroad and exchange programs for students, falling under the categories of mutual credit recognition programs, degree programs and international co-op programs, etc. and spanning multiple levels from undergraduate to postgraduate education.
Chinese Language Program:
Tuition fee: 5892 RMB/Semester
Accommodation fee: 600 RMB/Semester(4-shared room; only for girls)
Application fee: 400 RMB
Application Materials:
1. Application Form
2. Copy of passport front page, visa pages of Chinese visa, pages with enter & exit stamps.
3. Photo
4. Certificate or diploma for high school/university/Chinese language learning, academic transcript needed.
If you want to study in China, please contact Stella for more details:

Stella
www.cuecc.com
Tel: +86 17767072959
Wechat: StudyInChina1
QQ: 2853662501
What's App: +86 17767072959
Skype: study-in-china.org
Facebook/Instagram: Stella Cuecc
E-mail: eduunion@cuecc.com