Location: Harbin, Heilongjiang Province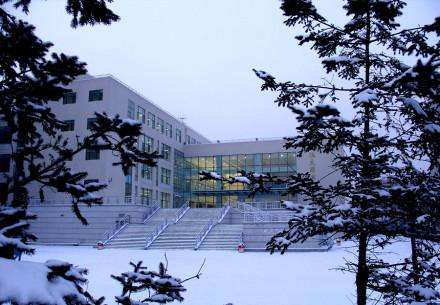 Introduction
The university is a full time multi-discipline institute featured with engineering as its lead. The Institute is located in the famous northern city Harbin, consisting of three campuses with total covering area 800,000 m2, and a floor area of 310,000 m2. The faculty number is more than 1,300. Among them 759 are full-time teachers, including 427 professors and associate professors, 610 of them with doctor's or master's degree. There are 14,200 full-time undergraduates and three-year students, plus 1,300 adult students.
The university is entitled by China's government to the enrollment of student abroad. International Cooperation and Education Center is in charge, which holds favourable teaching facilities and accommodation, including classrooms, labs, multi-media room, reading room and activity room only available for student abroad.
Chinese language:
Tuition fee: 8000RMB/Y ( If students behave well in the school, the school will give back 2000 to you)
Degree students:
Bachelor:(1+4programs: one year Chinese language study + 4 years English taught)
International trade and commerce, Computer science and technology and civil engineering
Tuition fee: 11000/Y( If students behave well in the school, the school will give back 5000 to you)
Accommodation fee: 2400/Y double room
Application materials:
(1)Any applicant who approves of the admission requirements, needs to fill up the university's application form. Student Abroad Application Form.
(2)2-inch bareheaded photos are needed in the Form, together with certificates of academic degree, chool report, passport copy, another 6 2-inch photos and application fee(260 yuan).Post all above to the International Cooperation and Exchange Division in the university.
(3) After all above are received, the letter of admission to the university and Visa Application for Study in China(in short—JW202) will be conducted by the Institute and posted to the applicant.
(4)The applicant will carry JW202, the letter of admission to the university, passport and physical examination sheet to the China's embassy or consulate in his own country to applicate X visa(learning for or over one year).If the time lasts half year, F visa is available.
(5)The applicant has to render the physical examination sheet according to China's health and quarantine laws and regulations, but F visa does not cover it.
(6)When the applicant comes into China as a student, he will be told by foreign affairs officer in the Institute, to apply to and pay for the residence permit and insurance.
Sally
www.cuecc.com
Tel: 0086-17794515595
Whatsapp: 8617794515595
Facebook: Cuecc Sally
Twitter: CueccSally
Instagram: CUECCSally77
Wechat: CUECC3
Email:studyinchina@cuecc.com
skype: CueccSally
QQ:2853662503