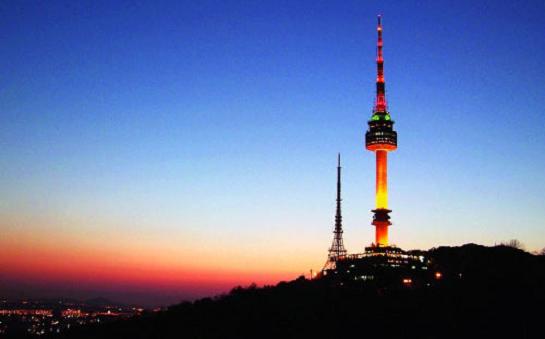 "If possible, I hope to have the opportunity to study in China in the future, make friends with local people and learn more authentic Chinese." A 12-year-old student from South Korea told reporters on Tuesday at 2019 Studying in China and Employment Exhibition in Seoul, South Korea.
The exhibition was hosted by Confucius Institute Headquarters(Hankao International), and organized by Rainbow Confucius Classroom in South Korea. It was held at Yonsei University in Seoul. More than 20 Chinese universities including Tsinghua University, Shanghai Jiaotong University, China University of Political Science and Law, Bank of China, Air China and other Chinese enterprises participated in the exhibition.
The exhibition was scheduled to open at 10 am, but just after 9 am, reporters saw many South Korea's students and parents came to the site, and visited each university's booth to read the enrollment brochure, learn admission requirements and application for scholarships and other matters. In the face of an endless stream of students and parents, the staff of each university was busy. Organizers estimated this exhibition attracted more than 4,000 students and parents.
Some of the Chinese universities attending the exhibition were present for the first time. Xin Yanjun, Dean of the School of International Education of China University of Political Science and Law, said they had not attended the exhibition before or recruited students from South Korea. It was unexpected that they were so popular at the exhibition.
Besides, Xiamen University, Jilin University, Guizhou University and other universities took part in the exhibition. "It's only been an hour since the exhibition opened, and nearly 10 students decided to study at our university." said the staff Tao Li from School of International Education of Guizhou University, "I thought China's inland provinces would be strange to South Koreans, but many students are also interested in studying in China's inland regions and learning about Chinese local culture."
Li Qunfeng, Technical Director and Representative of Confucius Institute Headquarters, said "The world's first Confucius Institute was established in South Korea 15 years ago. Today, Chinese language education is widespread in South Korea. At present, the number of Korean students in China has reached 50,000, and South Korea is the largest source of international students in China. In 2018, more than 140,000 students took the HSK test, and the number is expected to increase this year. I hope this exhibition can help Korean students have a better understanding of China and Chinese higher education, and promote cultural and educational exchanges between China and South Korea.
The 12-year-old boy is at Grade 6 of primary school this year and he can speak fluent Chinese, who passed HSK6 recently. "As far as I know, 70 to 80 percent of South Korea's middle and high school students choose Chinese as their second foreign language." His mother told reporters that Chinese language education has become increasingly important in South Korea's overall education as exchanges between the two countries continue to deepen. In addition, South Korea and China have many historical and cultural roots in similar. So it's not surprising that Koreans want to learn Chinese."
If you want to study in China, please contact Stella for more details:

Stella
www.cuecc.com
Tel: +86 17767072959
Wechat: StudyInChina1
QQ: 2853662501
What's App: +86 17767072959
Skype: study-in-china.org
Facebook/Instagram: Stella Cuecc
E-mail: eduunion@cuecc.com